Polished Concrete
Click on the images below to view a larger display.


Photo 1

Photo 2

Photo 3
Click here to see more pictures »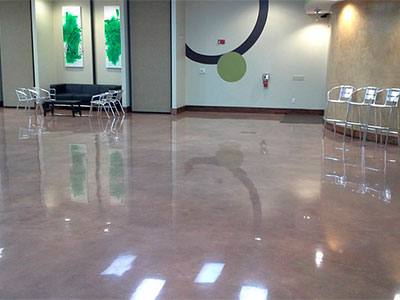 Custom concrete applications such as staining, stenciling, and polishing are some of the fastest growing trends in concrete flooring finishes. These treatments not only add to the aesthetics of the floor but provide a good amount of protection to the installation too. A floor that wears well translates to low maintenance. When people think of polished concrete finishes, one of the first companies that come to mind is ours.

From our base in Boynton Beach, we at Select Coatings Inc. have been serving clients in Broward and Palm Beach counties since 2002. Over the years, we have handled numerous concrete polishing projects on properties in Atlantis, Boca Raton, and Pembroke Pines. We can turn your plain old and drab concrete floors into unique, vibrant and stunning surfaces that are easy to maintain and amazingly durable.


Polished Concrete Can Be GREEN!
Polished Concrete is a process for turning a concrete floor into a highly abrasion-resistant, incredibly dense, and smooth and visually appealing surface. Polished Concrete eliminates the need for epoxy or thin film coatings, guaranteeing a surface that can withstand even the toughest traffic. We can polish concrete surfaces to a brilliant glass-like sheen. This process is similar to sanding a piece of timber to very smooth finish. While polishing concrete we use diamond pads or various grits to lend a glossy, reflective finish to your concrete floors.


Light Concrete Polish and Seal Services
Typically, concrete polishing involves numerous steps to achieve a glass-like finish. But if you are working on a tight budget, you can consider our light polish and seal services. By reducing the number of steps, we can reduce the overall cost of the job, without any compromise on the appearance of your floor. This type of concrete finish would generally include the application of a special sealer.


Custom Concrete Polishing
When polishing concrete a range of outcomes can be achieved, depending on the purpose for the floor, all with the inherent benefits of strength, abrasion resistance, non-dusting, spill resistance that make polishing concrete the new choice for concrete flooring.

Our customized concrete polishing solutions have helped add beauty and value to many properties in Briny Breezes, Delray Beach, and Gulf Stream. Today, we also have a strong client base in Loxahatchee Groves, North Palm Beach, and Ocean Ridge and the surrounding areas of Miramar, Sunrise, Tamarac, and Weston.


Concrete Polishing Work Process
The polishing concrete process moves through a succession of steps of diamond grinding using progressively finer grit sizes, application of a liquid densifier and optional. The results are a smooth, glossy, durable and attractive floor. Polished concrete floors can be used in new or old construction for manufacturing, warehouses, automotive factories and showrooms, retail, commercial and industrial environments.


Benefits of Polished Concrete
The low maintenance, easy to clean polished surface has led more and more industries to realize the value of their existing concrete. Even homeowners are catching on the appeal of these smooth, high-luster floors, which can be stained to replicate the look of polished stone. Additional benefits of polishing concrete include its odorless application and environmentally friendly properties promoting a healthier working environment.


Durable
Easy to Clean
Low Maintenance
Environmentally Friendly
Highly Abrasion Resistant
Withstand Even the Toughest Traffic

When you will settle for nothing but the best, Select Coatings Inc. is the company to call. We assure you of the best services at very competitive concrete polishing cost. For more information, call us at (877) 869-9090 (toll free) or (561) 742-3202. You can also send us your project details via this Contact Us form.